There's a lot to know and keep straight. Below, we try and help you sort out all the details by answering a number of questions that often come up.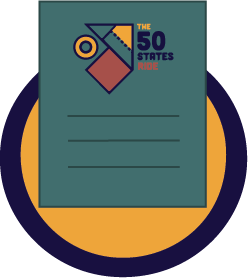 Our digital ride guide has been released and features all the essential details about this event in one place. Click below to access all the information you could want including links to the ride routes in one place!
What is this event?
The 2023 50 States Ride is a fundraising bike event for the Washington Area Bicyclist Association (WABA). It gives participants a choice of four ride routes exploring Washington, DC by bike.
When is this event?
Saturday, September 23, 2023.
Where does this event take place?
The ride start and finish will be at Kraken Kourts and Skates, located at

514 Rhode Island Ave NE, Washington, DC 20002.
The venue is located close to the Rhode Island Avenue Metro Station and is just off the Metropolitan Branch Trail.
For those who drive, there is a paid parking lot.
What time does this event start?
Diamond Route
Check-in: 7:00 AM-7:45 AM
Group Start: 8:00 AM
Roundabout Route
Check-in: 8:00 AM-8:45 AM
Group Start: 9:00 AM
Triangle Route
Check-in: 9:30 AM-10:00 AM
Group Start: 10:15 AM
Straightaway Route
Check-in: 10:30 AM-11:00 AM
Group Start: 11:15 AM
Are the roads closed for this ride? Are there cars?
Is this ride supported?
The shortest ride, the Straightaway Route, takes place entirely on the Metropolitan Branch Trail and separated from traffic. Volunteers will be stationed throughout to help make it especially safe and kid-friendly.
Otherwise, the three longest ride routes are generally unsupported. That means:
Streets are not closed for this ride. You will ride on streets with motor vehicle traffic.

The route is unmarked. 

There is no support and gear vehicle to pick you up.  
Participants are expected to:
Call 911 in case of an emergency.

Have an emergency-contact who is not a ride participant "on call" during the ride.

Carry a charged cell phone (and charged battery pack for the longer rides).
Is the route marked with signs or arrows?
No. The route is unmarked.
Participants should navigate using the physical cue sheet provided in their check-in packet or with free turn-by-turn navigation on their smartphone using the Ride with GPS app.
Will there be ride marshals?
Yes. 
Ride Marshals are volunteers who will be there to help participants navigate and offer encouragement and support. 
Lead Ride Marshals will lead an optional group start for those who wish to ride together.
Buddy Group Ride Marshals will lead and stay with those individuals that would like to ride with other bikers or feel that they will need a little encouragement along the way.
Sweep Ride Marshals will bring up the back of each check-in group.
Do I have to ride with a group?
Nope! There will be two or three group starts for each group (see timing above), but once you've checked in you can start your ride any time you'd like.
Where can I find information about the routes?
WABA will publish the 2023 50 States Ride routes on this website in early September and will share them by email to registrants the week of the ride in a digital ride guide.
In the meantime, check out previous 50 States Ride routes! (The 2023 routes will be different, but similar in difficulty, distance, and elevation.)
I'm not sure which route is right for me!
We'd love to talk to you about this and help you pick the route that is the best fit for the ride you want to have! Email us at events@waba.org if you'd like to chat about it.
Do I have to follow traffic laws?
Yes.  WABA asks and expects all participants to ride lawfully and with respect for other road users. This means:
Stop at all red lights and stop signs as appropriate. Cyclists can use the leading pedestrian interval at stop lights and yield at stop signs except when others have right of way at the intersection.

Always yield to pedestrians. 

Follow posted signs.

Use hand signals when turning.

Communicate verbally with other riders. 

Do not ride more than two abreast, and do not take up more than one lane of travel. When riding on sidewalks, trails, or paths, be cautious when passing other users and slow down.
Do I have to wear a helmet?
What should I bring to the ride?
Bike

Helmet

(Required by our insurance. You can't ride without one.)

Bike lock (Even if you don't plan to stop during the ride, it's good to have a lock with you during the ride, in case of an unanticipated or emergency stop along the ride route. If you'd really rather not carry your lock during your ride you can leave it at bag drop with WABA staff when checking in and collect it at the finish line.)

SmartTrip card (in case you decide you'd like to take the metro during or after the ride)

Weather appropriate clothing (the 50 States Ride is rain or shine!)

Water bottles (you can fill it at the check-in area if you need to)

Saddle bag (to carry spare tube, tire levers, and pump or patch kit)

Spare tube (especially if you have a non-standard rim size!)

Charged cell phone and charger

Sunglasses and sunscreen

Additional snacks

Money (in case of emergency situation and/or for purchasing drinks, snacks, or other goods displayed by vendors at the after party)

An adventurous spirit!
Will you feed me?
There will be snacks and water available for registered attendees at the ride start, ride finish, and pit stops along the way.
There will be water jugs from which you can fill your reusable water bottle. WABA does not provide cups or plastic water bottles—bring your own!
Snacks will be vegetarian. There will be vegan and gluten-free options.
Snacks will be single-serving and pre-packaged (you can have more than one!)
At the after party we will provide a boxed lunch that you will select upon registration. You will also be given a drink ticket you can redeem to get a non-alcoholic drink of your choice such as soda, gatorade, juice, milk, seltzer, etc. The venue will allow you to apply the cost of your drink ticket towards an alcoholic drink if you prefer.
Consider bringing money to purchase other drinks and snacks at the after party (as well as other goods displayed by invited vendors).
Do I have to be a WABA member to register for this ride?
Nope!  But current members can receive a discount on ride registration by using a discount code. WABA emailed this code to members. 
If you haven't received it, email events@waba.org and we'll be happy to help! 
If you'd like to become a member, visit waba.org/join!
What is your refund policy?
Because this is a fundraiser there will be no refunds for this event except in case of illness.
If you are feeling sick or have symptoms of an illness, do not come to the event. Email events@waba.org and let us know you cannot come because you are sick, and we will transfer your registration fee to a 100% tax deductible donation or put your registration fee towards a future WABA ride.
Can I transfer my registration to another individual?
Yes. However, there is a $25 admin fee for transferring registration. Please email us at events@waba.org to make your transfer.
Is there a youth rate for this ride?
Yes. Riders under 18 qualify for the youth rate.
Diamond Route:  $75
Roundabout Route:  $55
Triangle Route:  $45
Straightaway Route:  $25
You must purchase a ride registration for all individuals who will ride their own bicycle in the event. Any children being carried by you on your bike or in a trailer do not need a separate registration (but will also not receive all perks and premiums included).
I am riding a tandem bike with another individual! Do we need two registrations?
Yes, unless riding solo is not an option available to one of the participants. If so, please register for one person and send us an email with contact information for the other rider so we know who is coming at events@waba.org.
Can I register a guest for this ride?
Yes. You can register multiple people at one time. However, you must provide the name and email address of every attendee.
I want to register a child or person who does not have their own email address.
Can I register onsite the day of the ride?
Yes! Ride registration will be open until check-in closes. You can register yourself on your phone or WABA staff at the info table can help you register at check-in. Please arrive during the check-in time for the route you wish to ride, and we'll get you set up. By registering late, be aware that you may not be able to receive all perks and premiums or have your preferred size or selection. 
Can I switch routes on ride day?
Yes. Please arrive during the check-in window for the route you wish to ride, and we'll get you set up.
If you are switching to a longer route, you may need to pay additional fees to cover the cost.
Still wondering about something? Or, have any feedback? Please send us an email directly to events@waba.org. We would be happy to hear from you and would get back to you quickly with a response.
This year's event promises to be bigger and better than ever before. Tour the city on this storied ride, connect with the bike community, and support better bicycling in our region. Act fast to get in on the fun!